A TASTE OF MEMPHIS AT TIGER LANE
"Celebrate Your Greatness At Tiger Lane"
Friday, April 7, 2017
5:00 p.m. – 10:00 p.m.
Tiger Lane @ the Liberty Bowl Stadium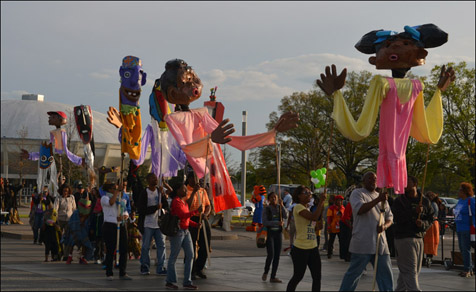 On Friday evening, April 7th, back by popular demand, "A Taste of Memphis" neighborhoods; a special event on Tiger Lane specifically designed to showcase neighborhood organizations, Community Development Corporations, faith-based organizations, and so many others throughout the City of Memphis and Shelby County.
Several communities will be achieving milestones in 2017, in honor of them, we will "Celebrate Your Greatness at Tiger Lane". Neighborhoods all across Memphis and Shelby County will be able to celebrate their unique qualities and accomplishments. The event will offer neighborhood organizations the opportunity to work together, further strengthening a sense of community.
The evening will be a festive atmosphere that will include entertainment and mobile food vendors. We feature a "taste" of various kinds of food and music - enough to wet your taste buds and musical pallet. We plan to have it all! And of course, there's you – the icing on the cake – the best in Memphis neighborhoods. And that's "A Taste of Memphis."
As participants in "A Taste of Memphis", neighborhood groups will be able to work collaboratively to set up display areas. This will be an opportunity for you to:
Show attendees the many outstanding neighborhood projects you have done;
Show off the awards you have won;
Share that creative newsletter you're so proud of;
Boast about all the other amazing accomplishments you have achieved.
You can tell everyone all about your wonderful neighborhood and all the work you do to help make Memphis the "City of Choice" in which to live, work, and play.
"A Taste of Memphis" Rules
The display area must be developed by neighborhood groups. Neighborhood groups located in the same geographic community must share the same 8 foot long table and slot space. Neighborhood groups will work collaboratively to create their display which represents the neighborhoods assigned to the same table.
There will be 1st, 2nd and 3rd place winners.
Judges will be the Memphis Police Department Neighborhood Watch Coordinators
• Set up will occur from 2:00 p.m. – 4:00 p.m. at Tiger Lane
• No cooked food, bar-b-queuing, grilling, etc. will be permitted.
• No use of additional booths or space beyond the area provided
• No use of tents
• A 110 electrical outlet volt will be provided in each assigned slot
• The use of video equipment, Laptops, iPad, etc., to show PowerPoint presentations, YouTube videos, etc. are permissible